1. Don't Over-Water
Many people over-water which is not only wasteful but it means you are doing more work than you need to. To determine if it is time to water, look at the soil about a spade deep down. If the soil is damp, leave it alone; if it's dry, it's time to water. Watering in the evening when it is cooler also reduces evaporation, which saves on water usage.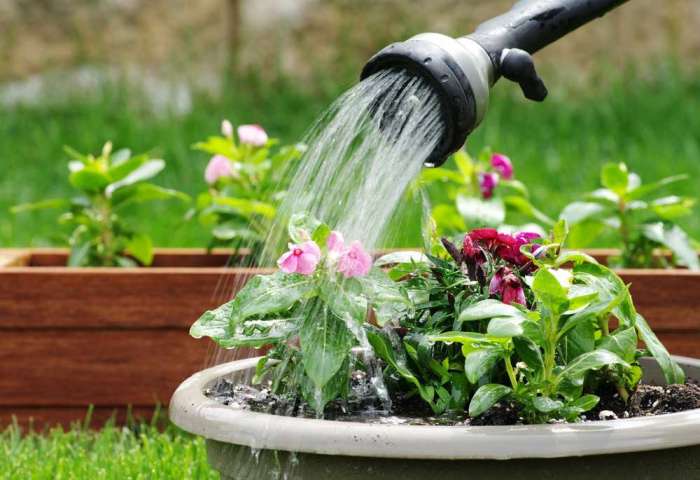 2. Not all Soils Need the Same Amount of Water
Take into account the soil type when determining how much you should water. Light sandy soils need to be watered more frequently than heavy soils.
3. Collect Rainwater
Collecting rainwater is simple. Just divert the water from your drainpipe into a bucket or bin. And the best part is that saves water and it's free! You can then use the collected water to dilute Mirimichi Green fertilizers and soil additives.
4. Choose Native Plants
Choosing native plants will require little or no water beyond what nature provides. Native plants are used to the environment, therefore, the plants will thrive.
5. Choose the Right Soil
Choosing the right soil is not only important for water usage, but it is important for the health of your plants. Mirimichi Green CarbonizPN Soil Enhancer helps plants thrive by improving the efficiency of your soil and soil structure. CarbonizPN Soil Enhancer is a professional blend of premium organics and USDA Certified Biobased Carbon that remains in the soil to increase fertility and water absorption while decreasing nutrient leaching. CarbonizPN also promotes a healthy, long-lasting biological rhizome.
Click here for a list of distributors!
https://mirimichigreen.com/wp-content/uploads/2017/05/12412829.jpg
480
700
Alex Molosky
https://mirimichigreen.com/wp-content/uploads/MG-Horizontal-Logo2.svg
Alex Molosky
2017-05-12 10:25:00
2020-11-23 00:08:20
5 Proven Ways to Save Water in Your Garden